For several months you have been waiting for one thing: to go skiing in the mountains.
The scenery is magnificent and the fresh air is invigorating.
You have planned everything, where to stay, where to shop, where to stop for a drink and what to wear to look great on the slopes. But there's one thing you haven't thought about… How to pack clothes for an evening out on the slopes.
Obviously, you'll have to pile on the layers to stay warm, without turning into a Michelin man. Quite a dilemma!
Not to mention the shoes, which you'll have to choose for all terrains to avoid slipping. Exit the pumps and stilettos, this is not the place for them.
So we've put together a little summary of the basic rules for staying chic in the mountains. Let's get started.
Françoise jacket and fur bag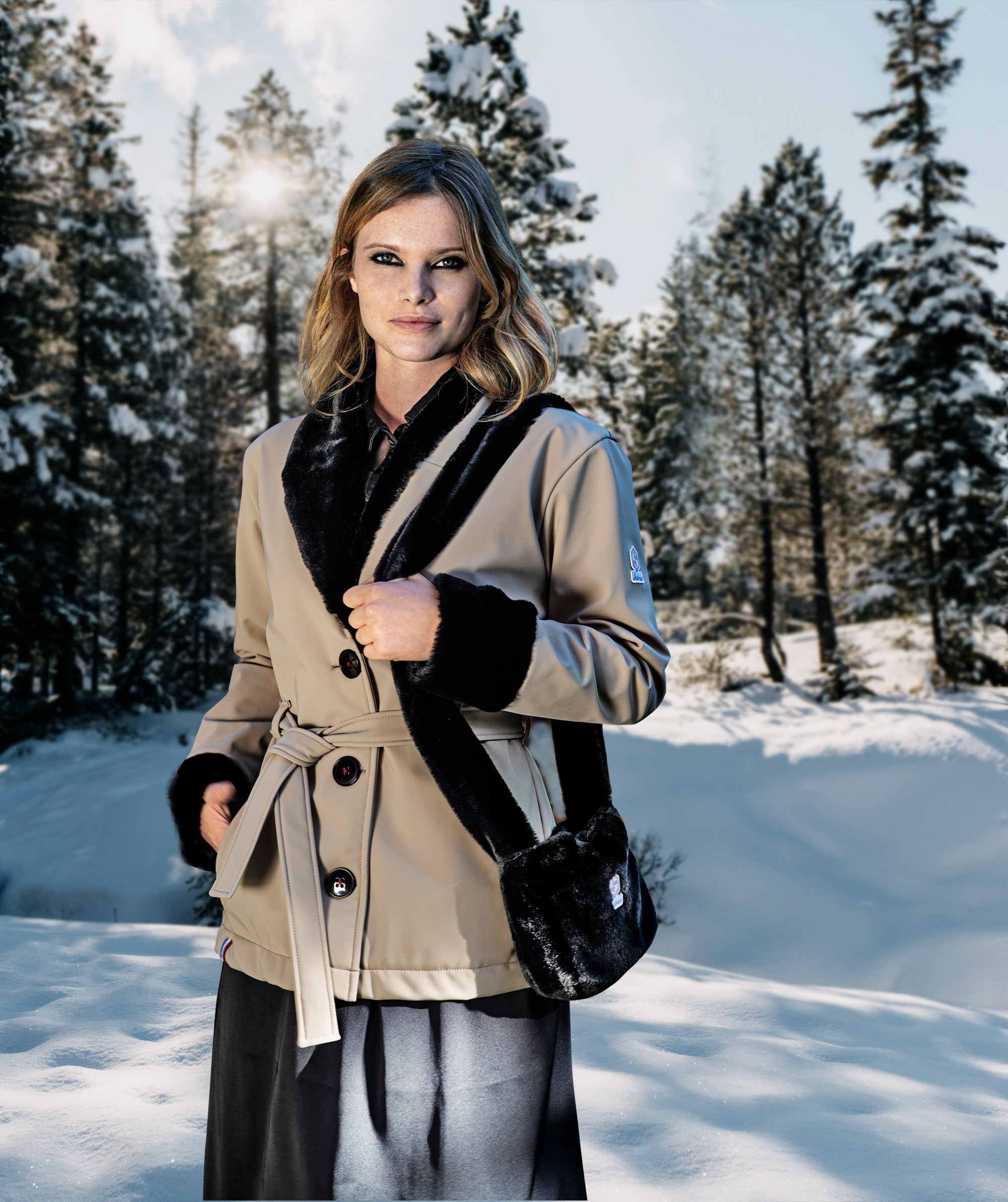 The basic rules
The three-layer technique
One well-known technique is to stack several layers to adjust the temperature to the place where you are, but be careful to do it properly. We explain!
Be careful not to put on too many layers, as you risk sweating and feeling uncomfortable. Here is the list of essentials to pack for the mountains.
First of all, you should preferably choose a technical first layer, which will be close to the body and which will have the role of evacuating perspiration. As for cotton, it will only soak in and leave a damp feeling: banish it.
The second layer has a very specific function: to keep you warm. We advise you to turn to wool. But be careful where you go. If it's a warm place, we recommend fine knitwear. On the other hand, if you're on a terrace, you'd be better off with a warm knit. The best thing to do is to choose a jacket with a zip, which can be easily adjusted by adjusting the zip.
The last step to complete your outfit: a garment that insulates you from the outside elements such as wind or snow, which are very common in the resort.
To do this, simply choose technical fabrics with a water-repellent function. This is the case for Skidress jackets made of softshell material. They are ultra-light and comfortable to wear, while offering maximum protection thanks to the Teflon EcoElite technology. If you would like to learn more about the different technologies used, please click here.
Cover your extremities
To protect yourself from the elements, especially in the mountains where it is very cold, it is essential to cover your extremities such as your hands, feet, neck and head.
There are many options available to you depending on your style and needs.
For an elegant look, leather gloves are preferred (always match the colour with the shoes, or go for the basics, one black and one brown pair). A hat, preferably 100% wool felt, and a pair of thermal socks.
On the other hand, if you want a sportswear look, a hat or ear muff is preferable, as well as woolen gloves with tactile tips to maximise ergonomics and a Skidress neck warmer.
And finally, if you want to look bold and trendy, opt for a chapska as a head covering, gloves with fur detail and fancy socks. Sequined tights and socks are the big trend for winter 2022-23.
The Skidress touch
Pairing a timeless piece with a bold one
Often, the perfect look isn't just a matter of pairing the folkiest pieces in your wardrobe. The key is in the subtlety of combining a timeless piece with a strong one.
So how do you dress chic for the ski resort?
Let's take a few examples.
You want to go for a drink in a bar down the slopes with friends? Pair jeans (timeless) with a sleeveless down jacket with a fur insert like the CENT-DIX-NEUF (a strong piece).
Or maybe you have a date and don't know how to be warm and feminine at the same time? We recommend a white turtleneck (timeless) with the Carla skirt and ankle boots. See the selection of pieces for a stylish and warm outfit.
Don't know what to wear with your favourite piece? Don't panic, black is a colour that will certainly enhance your favourite coat. If you want to know more about how to use black in a perfect look, we recommend the I Love Ski article: Black is a safe bet.
Accessorise
When wearing a winter outfit, it is common to end up with a dull look. The colours are often darker than usual, the materials are thicker and you don't really know how to bring the sparkle that will reveal the outfit.
For that, nothing could be simpler. Accessorise! And the choice is endless. Jewellery, bags, shoes… You don't know what to choose… So don't compromise to be stylish in the mountains!
For jewellery, a beautiful necklace combined with earrings will be perfect to brighten up your face. On the other hand, be careful with rings, fingers tend to get thinner with the cold, it would be a shame to lose one when taking off the gloves.
Bags. We opt for something practical. You want to have your hands free to warm them up in the pockets of your jacket and you don't want to spend too much time looking for the keys that have slipped to the bottom. By the way, if you want a unique two-in-one, Skidress offers sleeves. You slip the essentials into a zipped pocket and slip your hands into soft faux fur. It has a shoulder strap so you can carry it on your shoulder or cross-body.
The shoes. There are no rules for shoes, except of course not to go out in high heels or you might sprain an ankle. If you absolutely want to wear heels, it's best to opt for a big trend for winter 2022-23 with rain boots with a very wide heel and notched finishes. And for a more retro look, moon boots can last through the years and go with a wide range of looks.
Autumn/Winter 2022-23 collection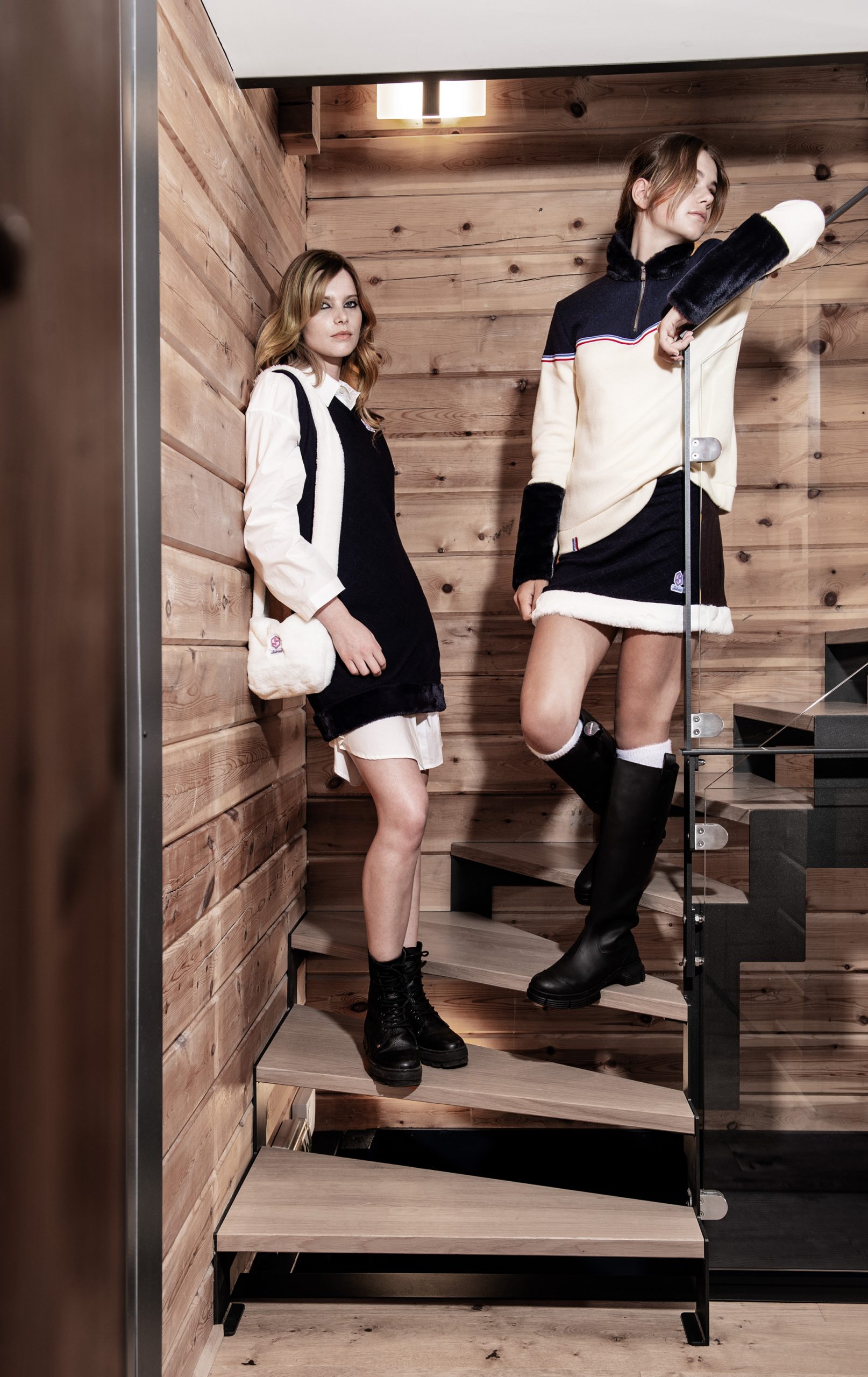 To summarise
In the end, it's not that hard to find the perfect look for going out in the resort. What is important to understand is where you are going and with whom. It's important to respect the basic rules so that you can quickly adapt to your environment. After that, it's up to you to play with your style and fashion details so that you don't compromise between comfort and elegance !